In a town were sports talk is as competitive as pro sports and media firestorms can change the behavior of a team from a winner to a loser overnight, George Steinbrenner, the man who was all about winning, was  master of the game.
When he was fading away in 2009, sportswriters raised the question of whether his sons, Hal and Hank, had the right stuff to follow their dad and run what many consider one of the world's most valuable sports franchises, the New York Yankees.
Stories percolated about the eminent sale or demise of the team because the family couldn't take the financial hit on the 55 percent inheritance. Meanwhile Congress bumbled and stumbled and couldn't agree on an Inheritance Tax renewal bill.
By gutting it out until 2010 to die, with the tax in limbo, George Steinbrenner gave his family a great legacy. With no Inheritance Tax in vigor, George avoided the $650 million tax tab and gave sons Hal and Hank a cushion so they wouldn't need to consider selling the team. Major League Baseball approved the shift of controlling interest in the Yankees from George to Hal and Hank after the 2008 season.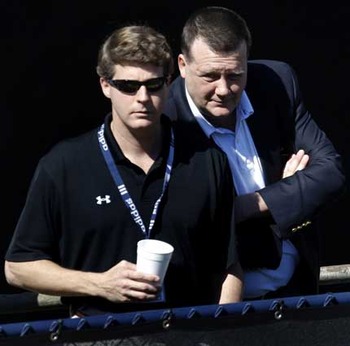 With George hanging out in heaven with the rest of the baseball gods, 42 year old Hal is the managing general partner of the team. His brother Hank helps with the decision making. The pair have developed a softer management style than father George that has taken the Yankees deep into the American League championship playoffs.
While George would have threatened to fire managers and trade players if they didn't make the playoffs, Hank has said jobs are not on the line if the team doesn't make it to the show, and he has expressed confidence in manager and Yankee icon, Joe Girardi. But we've heard that line from George too.
Like his father, Hal attended Culver Military Academy in Indiana and Williams College. He also earned a MBA at the University of Florida. Hal, a self-described finance geek, does not project the emotional attachment that father George showed for the team.
Brother Hank, who also attended Culver, has been called "The Invisible Man" around the Yankees FO by Bleacher Report, a big time online sports zine.
George Steinbrenner was a passionate patriot. He believed in winning so much he made sure that more people around the world were wearing NY Yankees hats than Che Guevara t-shirts.
Steinbrenner was loved and hated. Mercurial, with a temper, but accessible. Wanna see the man? Leave a napkin note at Jimmy Weston's on East 54th Street where he hung out. He'd get the message.
George was born into money. He came from a wealthy Cleveland-area family that built and ran boats that transported iron ore and other minerals from the huge Mesabi Range in Minnesota along the Great Lakes to Chicago, Cleveland, Detroit and elsewhere. The fact that World War II-era chief of naval operations Admiral Ernest King, from nearby Lorain, Ohio, near Cleveland, was a friend of the family didn't hurt their shipbuilding and sea cargo business.
George attended Williams College where he was a Deke and studied classics, which annoyed his father. But sports was his passion and he acted out on it. He moved on to Ohio State and got a masters in physical education and was an assistant football coach for a spell under Buckeye legend Woody Hayes.
He liked to be friends with winners and was close to NFL hall of famer Cleveland Browns quarterback Otto Graham for most of his adult life. He was hit hard emotionally by Graham's death in 2003.
As a Clevelander at heart he wanted to buy the Cleveland Indians American League franchise. But none of the people with action on the Tribe wanted him in. During the 1960s he ran the family shipbuilding interests, which now included American Shipbuilding, was active in Republican Party politics and developed a presence in New York.
Steinbrenner organized a syndicate that bought the languishing New York Yankees in 1973 for a mere $8.5 million dollars.  Hal and Hank were growing up in the Tampa-Ocala area at the time and never shared their father's passion for the city that never sleeps. Still don't.
At a time when players unions and free agency were posing new management challenges for traditional sports ownership, Steinbrenner paid top dollar for top talent with the only consideration that the players produced and kept their hair cut short. He was one of the pioneers of the "character counts" sports marketing model.
But he ran through managers and general managers like "Chainsaw Al" Dunlap ate up companies.
Steinbrenner's quiet charity and philanthropy ran in the background of his support for the Watergate crowd and Iran-Contra operations.  And when the dust settled, he was pardoned for every misdeed by none other than America's greatest sports fan, the Gipper himself, President Ronald Reagan.
Owning the Yankees for 37 years Steinbrenner left a legacy of 7 World Series wins and eleven American League pennants.  Hal and Hank and their management team have the Bronx Bombers in the World Series hunt. Once the Yanks bag another Series, don't be surprised if the brothers Steinbrenner unload the team for around $3 billion and look to put their imprint on another part of the sports world. Having bought the team for a mere $8.5 million, even daddy George would probably agree it's time to cash in and move on to another challenge.