There's something happening here.  What it is has become a bit clearer (to me, at least) with the simultaneous arrival on my desk of new CDs by Todd Reynolds, the Kronos Quartet, the Now Ensemble and Build. Listened to back to back, the family kinship is easily recognized. They have lots of cousins out there in the marketplace already, and each month brings new examples.  So, what's happening here?  Is it a new…sound? Impulse? Musical category? Dare we call it a "movement?"
But, wait, let's back up for a moment.  There hasn't been a major new music movement since minimalism and, let's face it, those cats are getting a little gray around the whiskers. For the past few decades, "contemporary classical" (our favorite oxymoron) has been pretty much a free-for-all. Even more so since the Internet came along and provided an inexpensive distribution platform.  There have been only a relative handful of composers who have broken through to the commerical mainstream–spiritualists like Arvo Part, John Taverner, Eric Whitacre, Morton Lauridsen, world travelers like Osvaldo Golijov and Tan Dun, new romantics like Aaron Jay Kernis, flavor of the months like Nico Muhly.  But, what they have in common is that the music they create has little in common with each other.
Not so, the new…what shall we call them?  Let's borrow a word from the post-impressionists who wanted to distinguish themselves from the original impressionists:  synthetism.  The New Synthetists are all searching for the same Holy Grail: a blend of classical, rock, electronics, pop and world music that is both serious and fun and will build an audience for the future. They are mostly young, conservatory-trained musicians and composers, and they frequently work in collectives designed to bring players and composers–quite often they are both–together. What they write and play is mainly a new form of chamber music that is often amplified, played on "hybrid" instruments, and has a contagious melody, or hook, and a backbeat you can't lose.  It is music designed for people who grew up on rock and is designed to sound as good in a roadhouse beer joint as in a concert hall.
Many of the Synthetists are entrepreneurs and marketers and their godparents are the Bang on a Can founders–David Lang, Michael Gordon, Julia Wolfe–who realized many years ago that if they wanted to hear their music played they were going to have to build the production and marketing infrastructure to do it themselves.  Basically, BOAC succeeded by working around the record company/concert hall music establishment.  That is the model many of the new kids want to take.  The "hot" new record label–New Amsterdam, founded three years ago by composer Judd Greenstein and members of the Now Ensemble–describes itself as:  "…a non-profit-model record label and artists' service organization that supports the public's engagement with new music by composers and performers whose work grows from the fertile ground between genres."
This sort of "between genre" music is frequenty played by established supergroups like Ethel, eighth blackbird, Alarm Will Sound and Kronos Quartet, which has been plundering sounds from the Third World for nearly 40 years now and always seems to be where the action is. It is played even more regularly by So Percussion, Now Ensemble, Newspeak, Icebreaker, JACK Quartet, Chiara Quartet, Victoire, Build and many others.
Its composers mainly belong to the past two generations although they seem to have absorbed all of music history and quote from it liberally. The latest generation to emerge–musicians centered around New Amsterdam Recordsand the Ecstatic Festival–includes composers like Missy Mazzoli, Judd Greenstein, Jefferson Friedman, Bobby Previte, Darcy James Argue, William Brittele, Matt McBane,  Sara Kirkland Snider.  The mostly older and longer established generation is more connected to the Bang on a Can/Cantaloupe/Innova/Ethel bloodline and includes Caleb Burhams, Neil Rolnick, Phil Kline, Tristan Perich, Evan Ziporyn and Todd Reynolds.  Especially Reynolds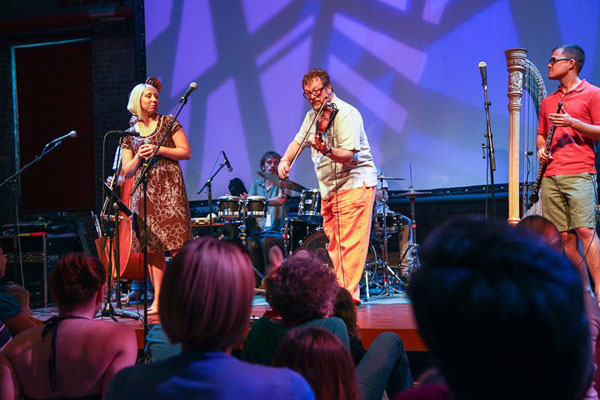 The ageless (try to find it in his bio) Todd Reynolds is the Eric Clapton of the electronically souped up violin. As a founder of Ethel in 1998 and a soloist, he has been one of–if not the–driving force behind the growth of synthetism.  His debut 2CD album Outerborough (Innova) is a dazzling display of genre-bending music and individual virtuosity. CD1 is devoted to Reynolds' own compositions; CD2 contains pieces by other composers, including David T. Little, Phil Kline, Michael Gordon, and the Books' Nick Zammuto.  Click on the first cut on CD1–Transamerica–and you immediately find yourself dancing down trip-hop lane as Reynolds lays some magic riffs over a groove from beatboxer Kid Beyond. It only gets better. Smoking, contagious, make up your own adjective. Outerborough is Reynolds' Layla.
The same sense of contagious, genre-bending optimism fills the room when you cue up the opening track of the Now Ensemble's sophomore album Awake. Judd Greenstein's Change opens the set with a seductive and insistent flute line that is gradually grabbed and mashed up by the entire ensemble. If you're not smiling by the end, try Prozac.  Patrick Burke's Awake melds Javanese gamelan music with Western harmonic and formal techniques and builds to a frenetic ending. In a piece titled Burst, guitarist/composer Mark Dancigers asks the age-old musical question: What would happen if you melded the pentatonic guitar patterns of Ali "Farka" Touré with the counterpoint of Mozart?   The answer, of course, is synthetism.
Build's second album, Place, is a more demanding and coherent effort which is to be expected since all of the pieces were written by the violinist/composer Matt McBane. McBane's writing, and the band's playing, have both gotten a lot tighter since their debut EP. McBane uses not only the group's standard instrumentation of violin, cello, piano, bass and drums, but also a 3-part trio for cello, piano and drums (Swelter); and a quintet (Anchor) that uses extensive arco bass, and vibraphone and concert bass drum instead of a drum set. The kickass piece on the album is called Cleave in which what sounds like a siren drone floats above a simple, repeated piano line and a funereal march on the drums.
Finally, for now anyway, there is the venerable Kronos Quartet's musicial tsunami Uniko (Ondine), a seven-part work by the Finnish composer/amplified accordian virtuoso Kimmo Pohjonen and percussionist/sampling guru Samuli Kosminen. (If Todd Reynolds is the Clapton of the souped up fiddle; Pohjonen is the Hendrix of the souped up accordion.) The piece was premiered at the Helsinki Festival in 2004 and has been performed by Kronos and its composers several times since but it has just now made it to a recording, mixed BTW by Bjork's producer Valgeir Sigurðsson. (Are those old dudes in the Kronos cool or what?) You have to hear Uniko to believe it but imagine that Phil Spector exploded over the North Atlantic and sent a 90-foot wall of sound hurtling toward Brooklyn.  I don't know what that means either but let's keep going.
While there is a lot of stylistic variation in how each of the musicians and composers mentioned here write and play music, they are bound together by a common ambition to redefine "classical" music for the 21st century by speaking to new audiences in a language they understand.  The infrastructure is coming together.  Bridges are being built.  Great music is being created and heard.  I have not been this optimistic about new music's future in a long time.